i feel when two friends joke around and make racist slurs atne another its fine, there is a respect that the two have fro one another, inthiscase its different. memory will get others to gang up on peple to say rasist slurs to them, will instagate and have others change names to rasist things to attack people who speak up agenst him, its like 1 bully that cant fight his own fight and gets his friends to bully someone along with him. 
WL should be a better pllace and a less toxic place, this is whynbk has banned him for his rasist remarks.
recruting in the server, im not going to go in anlot of detail but this kis is recruting everyday in wl servers, and talking shit to other ppl, shit talks fine when its one v one but when the kid cant shit talk his own ground its pritty sad. so i will bring this up that heis recruting and i suggest you guys take off your highheals and wipe off your lipstick and fortify your wl rules and regulations... 
mic spamming, he willnto shut up .tahts as far as i will go into that.
chat spamming , he will do this to recrute AND ADVERTISE HIS group.
i not making this post to be a taddle tail, or a snitch, its just fucking annoying WHEN SO MANY people are affected by his negativity, the pug becomes toxic, and i tired of ugs dieing pr ppl feeling insulted by racsisum because of this kid.
if you want to voice out the minion he brings and starts pugs, thats been happening ever since the start, so he holds no value there, as i and others can start pugs too.
IF YOU WANT TO VOICE OUT...every one is toxic or rasis....they why dont u make your servers a better place. to be honest, when hes kicked out of the pug, everyone is not talking about it, just ppl are making calls and its back to a nice game. no1 if cheering that we kicked him, no1 is makign a parade....but when we gang up on drago and kick him from spec, were all laughing ( NOT THAT Ive ever kicked you drago) but ppl are making a joke out of it....ppl are kicking sayain./memory because hes super toxic, and when hes out ppl are content to just play the game with out the showboating, no1 likes someone that is toxic and killing pugs, ...like honestly you guys need to assist the situwation on multiple levels.
for all of  you who have your head so far up memorys assand were his toggle goggle tag, take it off and think for yourself.
he is using you all for his youtube channel, 
hes using you so you buy his app online
for all of you that think his ohh my is funny i think ITS pritty retarded to like a broken record
HWERRE IS A LINK TO HOW HE TREATS HIS OWN PPL THAT HE SAYS OMG, YOUR SO GOOD, TAG UP , TAG UP:
https://gyazo.com/084ff1157fdc7f5c7ae9e2b7ec4dd726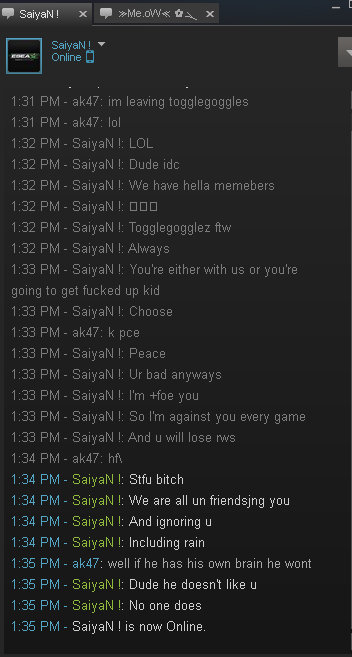 https://gyazo.com/084ff1157fdc7f5c7ae9e2b7ec4dd726
THIS PERRSON, was not only recruted by him in our WL server, but it comes to show how he trats you if you dont give in to his ways.
ak47: saiyan is so pathetic
ak47: lmao
≫Me.oW≪ ✿ܓ: I DONNO WHY U FLOOW HIM WITH YOUR HEAD UP HIS ASS
ak47: bro
ak47: when i joined
ak47: i literally didnt know who he was
ak47: i played 1 game with him
ak47: and realized he is a dick
...WHEN I TRY TO LET PPL KNOW BOUT THIS IN THE SERVER, MEMORY JUST ATTACKSME WITH RACIST SLURS, CALLS ME NAMES AND TAACKS ME LIKE HOW he attacks san all the time. 
....seriously no1 IS APPritiating the kids negative energy aND THE SHIT HE DOES.
HE HAS ON multiple accounts attacked me, said rasist things to me, ignred me and had others attack me. i could care less at his immute shit. but i take back my comment from the last post that was made on him by sift, and i SUGGEST wl MAKES a stand for its regulars that dont like the energy that has come around.
..and whats more annyoing is that he will ahve ppl join, just to gost, because when a person leves his fellow friend will not join into the pug, they will set spec and then leve the server instead of joinging the team that is aggest memory.
ill add more to this, since memory feel he can attack me and call me names and be rasist with it, i will continue to voice out the truth about him. ON MY FREE TIME, just WL ppl above me shold stop being scared to mute him, ban him, or kick him, you should think about and considure your community rather being scared to take actionon one individual who clown and has some nonreal friends that are really old school players that your friends with. 
you will ban gabe for hacks, but you will not mute someone talking shit to alot of ppl in  your comunity.
i guess that is a flaw you should learn from the nbk ppl.
whcih relates to recruting, and you should trat togglegoogles and 2swole the same way.
cheers